SUMMARY
UniFI AC Mesh Pro to provide cable free wireless environment for Mr Suneel M Advani , Chairman of Blue Star.
Introduction

Blue Star is India's leading air conditioning and commercial refrigeration company, with an annual revenue of over ₹4400 crores (over US$ 681 million), a network of 35 offices, 5 modern manufacturing facilities, 2700 employees, 2200 dealers and 600 retailers. Mr. Advani is a chairman of Blue Star Limited and resides in Urvashi Apartment on Nepean sea road. Mr. Advani wanted to upgrade the Wi-Fi access points and replace the existing TP link Wi-Fi router with newer technology for better Wi-Fi experience at their residence.
Challenge :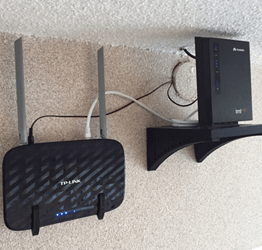 TP Link's Wi-Fi router was working round the clock to provide Wi-Fi coverage over the entire house with one repeater to extend the wireless network to another end of the house. Which would disconnect frequently resulting in loss of Wi-Fi signal's and poor connectivity. Also, the house was fully furnished without the provision for the CAT6 cabling. So, it wasn't possible to run cables through the wall's or over the walls.
The challenge here was to install Wi-Fi without using the cables and give stable Wi-Fi all over the house Cabling wasn't possible outside the wall's as it would make the wall's look unpleasant. They were looking for a wireless solution for Wi-Fi, as cables running all over the house would make it look as a mesh. They already had TP link's Wi-Fi routers installed, which didn't give much bandwidth or range. Those routers also had a lot of downtime with disconnection issues causing inconvenience.
Solution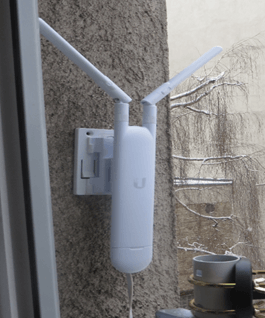 They relied on Synfocom systems for a wireless solution with Wi-Fi coverage throughout the apartment. We as a solution provider, decided to use Ubiquiti's newer mesh technology to setup wireless Wi-Fi over the house. Around 10 UniFi AC Mesh were required for the setup. UniFi AC Mesh works on wireless uplink feature for its wireless setup. Wireless Uplink functionality enables wireless connectivity between APs for extended range.
One wired UniFi AP uplink supports up to four wireless downlinks on a single operating band, allowing wireless adoption of devices in their default state and real-time changes to network topology. We started off by deploying one AC Mesh connected directly to the TP link router using a CAT6 cable and configured it be a downlink AP. There after we started to connect wireless AP directly to power plug near the power points to be uplinked to wired Access point. Once they were powered, they showed up as connected wireless after we ge it adopted for pending adoption (wireless) status as shown in below figure.

Once they got adopted and showed up as connected, we created wireless SSID in the controller with AP's adopted in it and complete wireless network was up for use.
Result:
No cables:
UniFi introduced Wireless Uplink to help make wireless deployments more flexible and convenient. Wireless Uplink allows an access point with a wired data connection to act as a Base Station (Uplink AP) for up to four other access points on 5GHz (or 2.4GHz for some legacy APs)- which can extend Wi-Fi coverage to inaccessible areas. Wireless uplink feature in simple words repeats the signal from the wired Access point and extends the range of wireless through uplinked Access point. The main benefit of using UniFi AC Mesh was to avoid cabling over the house. Wireless uplink technology helped to cover the house with complete wireless coverage over the house without having the run the cables.
Less bandwidth loss:
Previously with TP link's router, bandwidth would fluctuate with high latency issues. The complete speed across the network also was very sluggish. After the replacement of access points to UniFi AC Mesh, the bandwidth goes up to 90 Mbps over the link. File transfer's over the wireless SSID has been easy without any lags or packet losses. Normally in wireless uplink, there's a minimum loss of 50% bandwidth on the wireless, but with Mesh technology it is reduced upto 10%. UniFi AC mesh provides smooth Wi-Fi even with wireless technology.
Products used:
Switches and router's:
TP Link AC750
Wireless:
10 UniFi AC Mesh
References:
For more information about BlueStar, please see the BlueStar website at https://www.bluestarindia.com.