SUMMARY
Rocket AC Prism to simplify interference for Mumbai Aviation Fuel Farm Facility.
Introduction
Mumbai Aviation Fuel Farm Facility Private Limited (MAFFFL) is a joint venture(JVC) compromising of M/s Mumbai International Airport Private Limited (MIAL), M/s Indian Oil Corporation Limited (IOCL), M/s Bharat Petroleum Corporation Limited (BPCL) and M/s Hindustan Petroluem Corporation Limited.

Challenge :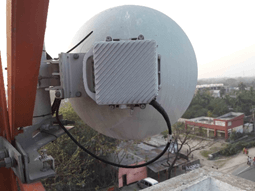 MAFFFL initially faced many issues with wireless bridge MAFFFL initially faced issues with interference over both end's due to many wireless devices in the same spectrum. Power Beam M5 was used to create wireless bridge between airport and MAFFFL. These two power beam M5's were having issues with interference, wherein device needed to be restarted in order to get the link up again. They have been trouble shooting on the device for some time to get the link stable. Link would disconnect from time to time resulting in loss of production hours while trouble shooting the link and get it to work. The challenge here was to have the link working stable in heavy interference scenario's.
Solution :
On site survey, it was found that due to too many wireless radio's nearby the M5 device, the device would bottle neck and stop working due to interference to it from them. A restart to the device would release the bottle and casue the device to work again for sime time.
To work in high density environment, we used Rocket AC Prism to reduce noise created by the neary wireless devices in the same environment. The Rocket AC Prism features both Airmax AC and airPrism technologies for maximum wireless performance in high-density areas. With it's multi-radio architecture, the Ubiquiti Rocket5ac Prism is capable of advanced RF analyctics, revolutionary spectral analysis, and real-time reporting without disrupting the network. AirPrism technology removes upto an additional 30+ dB of adjacent channel interference through the active filtering design, so an airMAX ac AP with airPrism technology can provide significantly great performance than a typical AP. Rocket AC Prism is a perfect solution for interference prone region.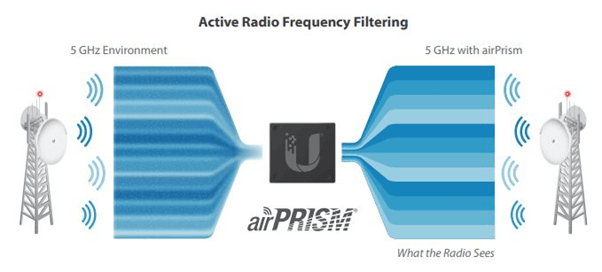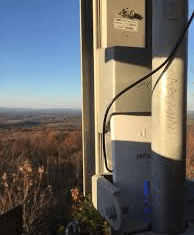 We started off by configuring the Rocket AC's and mounting them above the Power beam M5 to avoid down time of the link. We verified the line of sight and it seemed to be very clear as there was no obstruction in between the poles. Once the mounting the was done, we turned off the power beam M5's and aligned the Rocket AC's to get them connected to each other. Once the link was up, we ran airmagic to find best frequencies to get higher throughput and got the link up and running.
Result:
Reliable and Stable Link:
Now all the devices over the link can be managed efficiently without disruption in connection. Production also increased with the stable link which gives zero downtime. Previously there was too many disconnection due to interference and now no disconnection disrupting the service. The link as never been even with previous radio's, but with Rocket AC, the prism does well to filter the interference and have the link up and running.
Great bandwidth:
On previous radio's bandwidth would fluctuate at the maximum with high latency issues. The speed would hardly cross the mark of 30 mbps. After the replacement of radios to Rocket AC Prism, the bandwidth goes upto 150 mbps over the link. File transfer's over the link has been easy without any lags or packet losses. Rocket AC radio's provided safer link with latency less than 10ms which in previous case was higher than 100 ms most of the times.
Products used:
Wireless :
2 Rocket AC Prism
2 RD-5G30
References:
For more information about MAFFFL, please see the MAFFFL website at http://www.mafffl.in.