SUMMARY
UniFi to provide secure and reliable Wi-Fi coverage to Prime focus pvt Ltd.
Introduction
Prime Focus India is the nation's largest creative services (Visual effects, stero 3D conversion and animation), production (equipment rental and line production) and post production (Digital Intermediate / color grading and picture post) services provider to the film, Broadcast and Advertising Industries.
Prime Focus India is part of Prime Focus Limited, the world's largest independent and integrated media services powerhouse employing over 8000 professionals in 15 cities acriss 4 continents and 6 time zones.
Challenge :
Prime Focus's existing network had been operating for years and however the equipment was approaching its end-of-life. Scale, resilience and agility had become an issue and Prime Focus took this opportunity to take a new approach to building a network across the floor. Prime focus is a post-production company, which has all the raw data from the client's. Security of the raw data is of utmost importance for Prime Focus as a breach of data might be inappropriate. Main concern for them was the security of the network and make sure the wireless network for the clients and employees is separate from internal network. Main challenge here was to keep all the logs for all the users and data using from wifi. They wanted to collect all the data used for security reasons.
Solution
Once it was decided to use Windows Server as underlying technology for its AAA application. It needed to find a networking vendor to support the physical underlay. They required access point's to work with windows radius authentication server for wireless security.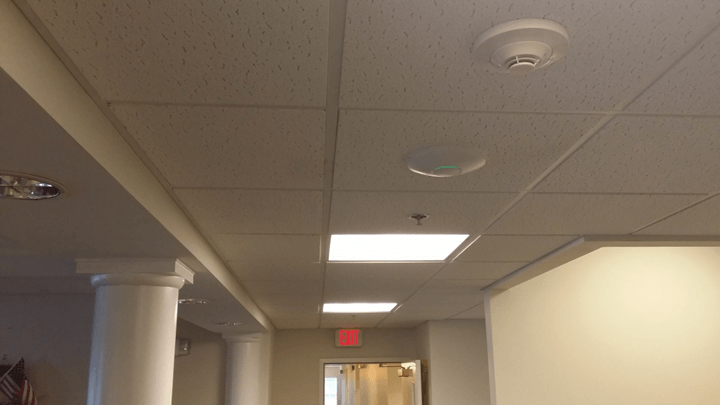 UniFi's radius integration is a real winner for authentication, authorization and accounting in wireless network. On site survey, it was determined that 20 UniFI AC LR's and one 24 port Edge switch would be required to power the access point's. We started by deploying the AP's on the ceiling where it can give maximum coverage and used Edge switch to power the AP's.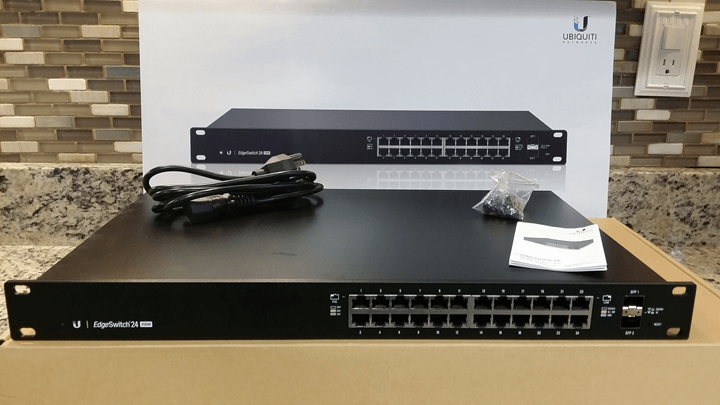 Edge switch is a layer 3 switch which has few features of layer 3. The EdgeSwitch offers the forwarding capacity to simultaneously process traffic on all ports at line rate without any packet loss. Edge Switch was configured to do all the routing across the floor and route all the data from one point to the another. Edge switch replaced the router and worked as a switch and router both.Once the AP's were powered and configured for wireless SSID. Setup for windows Radius server was done on Windows 2012 R2 for authentication with just Ip address of the server to be entered in UniFI controller. Radius was configured to allow each users to be authenticated. The configuration was simple in UniFi controller as shown in below figure: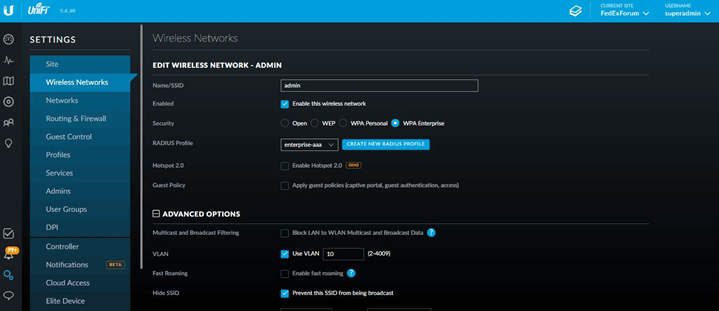 Result:
Secure Network:
The Network was more secure with radius server as all the users required the get authenticated to get access to the internal network. This helps to keep the data secure and safe from unwanted users. It also helps to restrict users to particular roles and actions to be performed on the network. Radius server enabled the user to isolate the client to particular network with its roles features.
Great bandwidth with wide coverage:
Apart from secure network, UniFi provided Prime focus with fast speed and wide coverage for Wi-Fi. UniFi AC LR enabled them to get coverage in each and every corner of the premises with better signal range. After testing the signal range across the floor, it ranged between -45 to -65 dBm. UniFi also provided the users with the ease of roaming around the floor without disconnection or any lag. This helps them to roam while on voice call without any disconnection. UniFi to be all in solution for all the queries.
Products used:
Routers & switches:
1 Edge switch 24 ports
Wireless:
20 UniFi AC LR
References:
For more information about Prime Focus pvt Ltd, please see the Prime Focus's website at http://www.primefocusindia.com.